Pre-Register Now for ILDEX Indonesia 2023 – Connect with the Global Leaders in the Livestock and Aquaculture Business this September!

[Jakarta, Indonesia] – ILDEX Indonesia is just one month away. Secure your participation to meet industry leaders by pre-registering today.
ILDEX Indonesia 2022 will be held from 20-22 September 2023 at Indonesia Convention Exhibition (ICE), Jakarta, and it is confirmed by the industry that ILDEX is one of the most important  trade & conference platforms for livestock, dairy, meat processing, and aquaculture exposition in Indonesia.  This year – the show records more than 250 exhibitors from 30 countries, including industry giants like PT CHAROEN POKPHAND INDONESIA Tbk. and Japfa Comfeed Indonesia, who are ready to showcase their cutting-edge products and technologies.
Wide Range of Business Coverage
The show presents a diverse array of business profiles, including Farm Production showcasing state-of-the-art farms and sustainable agriculture; Feed Ingredient & Additives presenting innovations in animal nutrition; Consultancy & Association offering expert guidance; Animal Health focusing on well-being and disease prevention; FeedTech & CropTech unveiling cutting-edge technologies; Meat Processing demonstrating advancements in value addition; Breeding & Hatching highlighting genetic breakthroughs; Egg Processing & Handling showcasing efficient technologies; Waste Management addressing agricultural waste, and Dairy Farm sharing insights into modern practices and product innovations.
ILDEX Indonesia 2023 is far more than just an exhibition showcase; it presents a transformative journey that will revolutionize food production for our growing population. With top international players like Henan Lee Machinery Manufacturing Co., Ltd [China], Buhler (Changzhou) Machinery Co., Ltd [China], Agromed Austria GmbH [Australia], Petersime [Belgium], ABRA-Brazillian Renderers [Brazil], Jamesway Incubator [Canada], Breeder of Denmark [Denmark], NECTRA SAS [France], LUBING Maschinenfabrik Ludwig Bening GMBH & CO KG [Germany], Dovoy Chemicals India Pvt Ltd. [India], Olmix Indonesia [Indonesia], Giordano Poultry Plast [Italy], Blue Aqua International Pte Ltd [Singapore], KSP Equipment Co., Ltd [Thailand], Siam Water Flame [Thailand], Hendrix Genetics [The Netherlands], Aytav Tavukculuk Ek. San. VE. TIC. LTD. STI. [Turkey], Aviagen Asia Pacific Ltd [USA], and the biggest players in Indonesia, PT CHAROEN POKPHAND INDONESIA Tbk. and Japfa Comfeed Indonesia, the event attracts global leaders in the industry. Join us to connect, form valuable partnerships, and gain insights into the latest industry trends that will shape the future of Livestock and Aquaculture.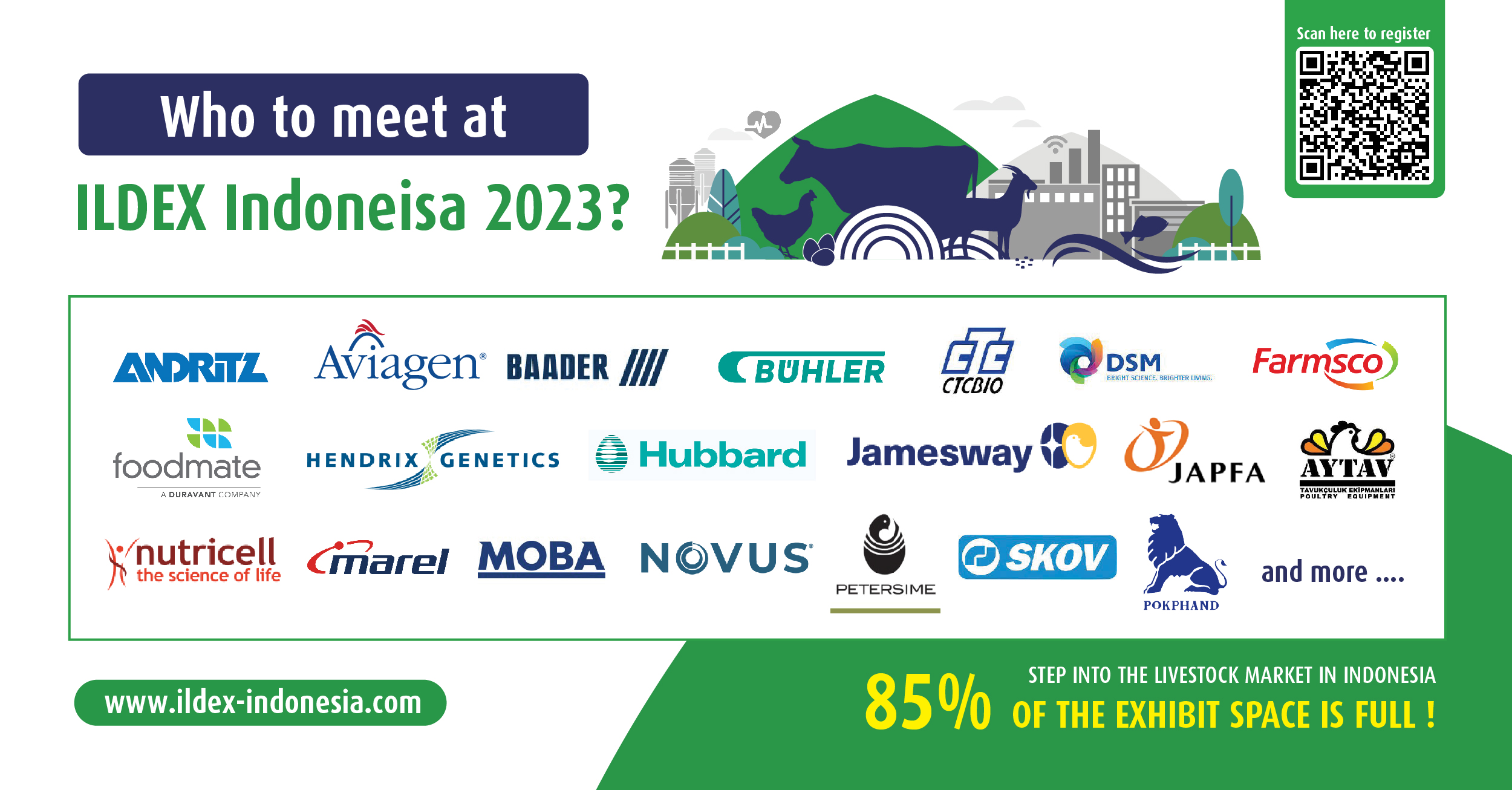 Introducing the New Highlight Pavilions
"ILDEX Indonesia 2023: Embracing the Future with Meat Pro and Aquatica Asia Pavilions. Prepare to be immersed in the latest advancements in meat processing and packaging at the Meat Pro Pavilion, and dive deep into the world of the aquaculture business with intensive conferences at the Aquatica Asia Pavilion. Pre-register now and be part of this unparalleled showcase of innovation in the livestock and aquaculture industries." – Mr. Supanat Triratphichan, Project Manager of ILDEX Indonesia
Meat Pro Pavilion
Meat Pro Pavilion is a new idea from Meat Pro Asia, the trade show in Bangkok. After we conducted research and found that meat processing and packaging are crucial factors for meat production, and can be further developed by using high technology and innovation, we are happy to present a processing machinery demonstration on the machine stage. Come to enjoy some meat with our experts during the show.
Aquatica Asia Conference
Aquatica Asia will be a strategic step towards creating a dedicated business platform to improve the production of fisheries within the aquaculture industry. In past years, organizers have worked to include the aquaculture segment in ILDEX Indonesia; however, the new event will help further highlight the industry for the existing show and industry professionals. Aquaculture is represented at the conference under the topic "Swimming Through Aquaculture Diseases: Challenges and Solutions with Emphasis on EMS, EHP, IMNV, and WFS" on Thu. 21 September at ILDEX Conference 3 (in hall) at the Aquatica Conference room.
Horti Agri Next: The Newest Highlight for Palm Sugar Producers
HAN Select INDONESIA is an international conference for the horticulture and agriculture industries, enabling intensive business connections and offering extensive educational and informative conference content, based on the market's current needs and requests.  HAN Select Indonesia will be held on Thu 21 September at Garuda Main Hall 2, ICE, with a full-day conference on the topic, "Maximizing the Marketing and Production of Process Palm Sugar in Indonesia,"
Don't miss the chance to be at the forefront of innovation, knowledge, and collaboration. Register now and join us at ILDEX Indonesia 2023 to witness the future of THE livestock-agriculture unfold before your eyes. Don't lose your business connections and find some more at ILDEX Indonesia 2023. Register now at www.ildex-indonesia.com  ____________________________________________________________________________________
PRESS Contact, please email to communications@vnuexhibitionsap.com / Tel.: +662 1116611 Ext.330-331