PRESS RELEASE: ILDEX Indonesia kick-off and gathering 2017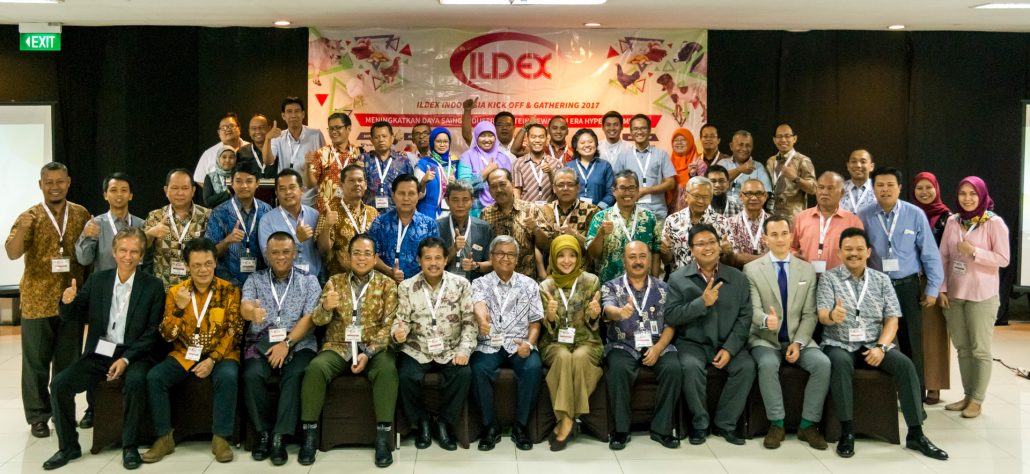 As an organizer of ILDEX Indonesia 2017, PT. Permata Kreasi Media along with VNU Exhibitions Asia Pacific, Co., Ltd. held an ILDEX Indonesia Kick-Off and Gathering 2017, as well as discussions with "Enhancing the Competitiveness of Animal Protein In the Hyper-Competition Era" as a main theme, at the Ibis Hotel, Jakarta (18/7).
The Kick-Off is carried out in order of ILDEX Indonesia 2017, which will be held in October 18th-20th, 2017 at Jakarta International Expo, Kemayoran, Jakarta. Participants of the Kick-Off are stakeholders in livestock, consisting of government, associations, business actors, and farmers. Dr. Ir. Arief Daryanto and Dr. Erwidodo came as the speakers and moderated by Prof. Dr. Ir. Muladno, MSA.
Director of PT. Permata Kreasi Media, Fitri Nursanti Poernomo, said that ILDEX Indonesia 2017 is held by various party. The third exhibition of ILDEX Indonesia is expected to improve the quality of livestock industry in Indonesia.
Meanwhile Nino Gruettke, Managing Director of VNU Exhibitions Asia Pacific, Co., Ltd. Said that Asian countries that have rapid economic growth and monitored by global investors are Philippines, Singapore, Vietnam, Thailand, Malaysia. Upon that countries there is Indonesia. "That's why we put our focus specifically in this country," he explained. In ILDEX Indonesia 2017, said Nino, in addition to more international (this exhibition is followed by 250 leading companies from 27 countries plus pavilion from China and South Korea.), it will also featured by three industrial zones, covering feeding and animal health; feed milling and agricultural equipment; and genetic, breeding, and processing.
"The exhibitors are increased by 22% from the previous edition and now 80% of booths are sold out. At this moment of ILDEX, several companies increased their exhibition area by 50%, as well as many new companies. We are targeting 8,000 visitors will be presented in this exhibition," Nino said.
He explained that there are many benefits to be gained for the participants as well as visitors in this edition of ILDEX. This exhibition is not only offering the latest livestock innovations for the upstream to the downstream sector, but ILDEX Indonesia 2017 also is a very potential in terms of business. "Many international companies are joining, both new and who have participated in the last edition," he said.
Director General of Livestock and Animal Heatlh, I Ketut Diarmita, represented by Fadjar Sumping Tjatur Rasa, said in his welcome speech that he glad for the holding of ILDEX Indonesia 2017. Livestock sub-sectors still plays an important role for the development process in Indonesia, especially in rural areas. "Livestock contributes 1.62% to the national gross domestic product in 2016. In addition, the livestock sub-sector role in providing animal food consumption tends to increase," he said.
Juan Permata Adoe, the Deputy Chairman of The Chamber of Commerce and Industry (KADIN) Strategic Food Industry Sector, mentioned that increasing the productivity farmers by 60%, will meet the domestic demand. Thus, it is very important to find solutions that can benefit all stakeholders.
"If domestic demand is met, Indonesia has a great potential to become a net exporter of agricultural products, supplying more than 130 million tons to global market. Therefore, the government needs to implement synergistic policies in order to generate sustainable growth and profitable income for all sectors, covering farmers, private sector, and government," he explained.
Arief Daryanto, Economic Expert of the Livestock Industry from Business School of Bogor Agricultural University, there are six things that became the key to success in competing in the livestock sector. First, the existence of an appropriate climate that makes the cost of cage management becomes cheaper. Second, low labor cost. Third, the strong support of corn and local soybean production is abundant. Fourth, the existence of contract farming between core companies and plasma farmers (can use cooperative schemes). Fifth, the existence of large companies with good management, modern equipment, innovative and market driven (market driven), Sixth, the existence of a conducive investment climate.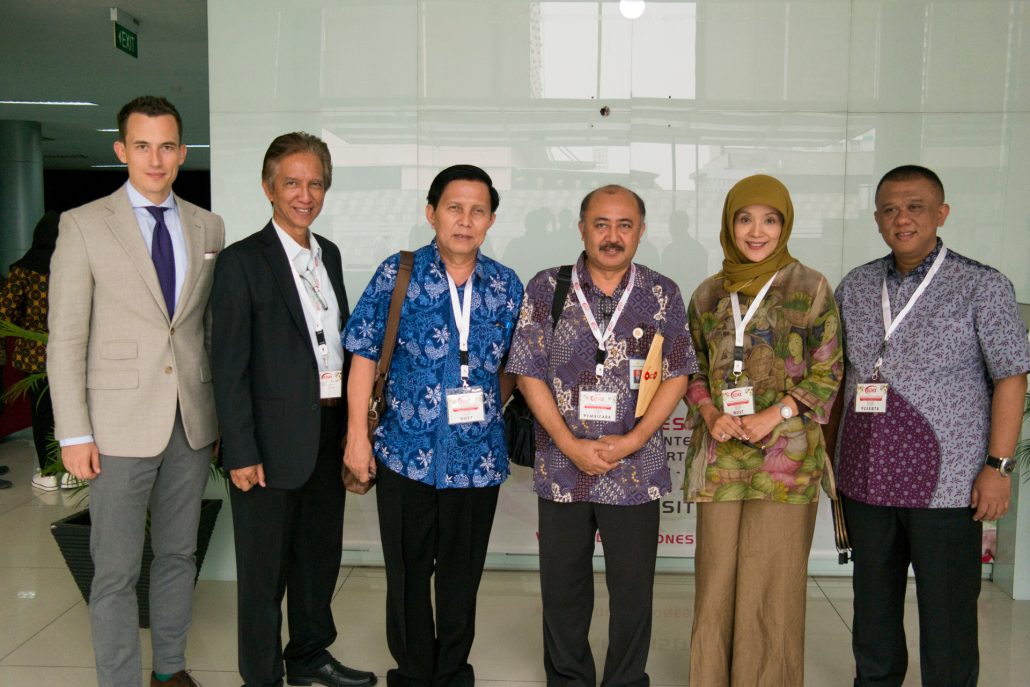 From left to right:
– Mr.Nino Gruettke, Managing Director of VNU Exhibitions Asia Pacific Co.,Ltd.
– Ruri Sarasono, Marketing Director – PT. Permata Kreasi Media
– Widiyanto D. Surya, Operational Director – PT. Permata Kreasi Media
– Drh. Fajar Sumping Tjaturasa, Ph.D, Director of Livestock and Animal Health – Ministry of Agriculture
– Fitri Nursanti Poernomo, President Director – PT. Permata Kreasi Media
– Ir. Tri Hardiyanto, Advisory Board – United of Chicken Farmers National Organizations / GOPAN