ILDEX Indonesia 2017 stimulates the Indonesian livestock market's growing demand and more investment through an International Exhibition – Tremendous growth has been achieved over 3 successful editions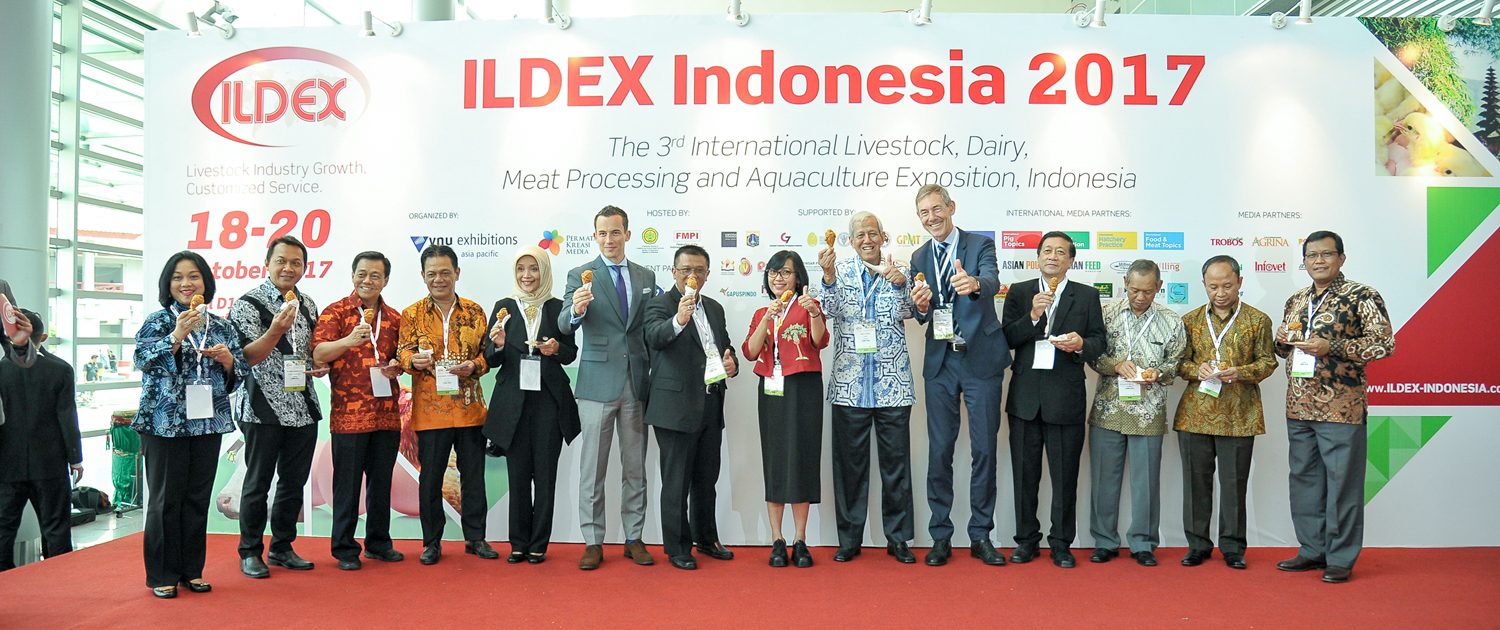 (Jakarta, Indonesia) Opening Release – October 18, 2017
ILDEX Indonesia 2017, the third edition of the International Livestock and Dairy Meat Processing, and Aquaculture Exposition, starts with strong attendance and plentiful business opportunities. Livestock experts and exhibitors have confirmed that this is the best marketplace and international business platform for Indonesian markets. The exhibition start today and runs through 20 October 2017 at JI Expo, Jakarta, Indonesia, delivering the highest quality and variety of new technology, business opportunities and both quality and quantity of local and overseas trade buyers.
This year's edition of ILDEX Indonesia is larger than last year. The exhibition space grows by up to 60%. It occupies over 9,360 sq. m., or 2 halls of JI Expo, and is showcasing 230 exhibitors from 34 countries, 2 international pavilions from China (x24 companies) and South Korea (x6 companies and a new special Pavilion from the Korea Agency of Education, Promotion and Information Service in Food, Agriculture, Forestry and Fisheries (KPIS)).
The exhibition expects 8,000 trade participants from 30 countries and it has received tremendous feedback from exhibitors about the quality and quantity of both the local and overseas trade buyers. Visitors have also expressed their pleasure about the huge increase, variety and quality of technology and solutions available at the show. The number of overseas buyers has also increased significantly, more than 200 potential buyers from 13 countries including Thailand, Myanmar, Indonesia, Bangladesh, The Philippines, Malaysia, India, Sri Lanka, Taiwan, Turkey and more,  are invited to attend the exhibition.
The special highlight for this edition is the honorable awards "Indonesia Poultry Veterinary Award (INPOVA)," in a series of ILDEX 2017 will present awards in three categories. The first awards is the "Veterinary Business Management Award", an award for a veterinarian who serves as a CEO, COO, of a top management company engaged in the livestock, animal health, and related enterprises. The winner is Drh. Irawati Fari, President Director of PT Novindo. The second award is the "Veterinary Poultry Health Scientist Award," an award given to a veterinary researcher and academic who devotes themselves to the development of poultry health science. The second winner is Prof. Dr. Drh. Wayan Teguh Wibawan, MS. from Faculty of Veterinary Medicine, Bogor Agricultural University. The third award is the "Veterinary Poultry Technical & Consultancy Award", an award given to a veterinarian who serves in Poultry Health Services, Poultry Health System Consultancy, and who assists in developing poultry farms. The last winner is Drh. Eko Prasetyo from Tri Group Bogor. ILDEX Indonesia and Federasi Masyarakat Perunggasan Indonesia (FMPI) are very pleased for all of these winners who received three remarkable Veterinary Poultry Health Scientist Awards this year.
Mr. Nino Gruettke, Managing Director, VNU Exhibitions Asia Pacific Co., Ltd. said that "ILDEX Indoensia has seen tremendous growth this year, both in terms of size and visitors. The exhibitors have increased by 48% from the previous edition and now 100% of the exhibition space is sold out with several companies increasing their exhibition area by 50%, as well as many new companies. There will be 230 top companies to interact with 200 potential buyers that we hosted from many focus countries. We are targeting 8,000 visitors who will be present at this exhibition.
We are also introducing our the first edition of ABC Challenge Asia 2017 which is a conference highlight for anyone involved in ensuring that the Asian consumer is receiving the safest poultry meat and of the highest quality that complies with the latest rules and regulations. It began yesterday with full seats. We also have more than 40 technical seminar topics and 30 international speakers in the conference session."
ILDEX Indonesia 2017 is showcasing three industry zones which include: Feed and Animal Health; Feed Milling and Farm Equipment; and Genetic, Breeding and Processing. It's driving innovation and enabling buyers and sellers to meet easily and develop great business together. Many different industry events are taking place at the exhibition and it's also providing successful meetings, business matching, knowledge exchange, networking and business opportunities for participants from the poultry, cattle, all livestock and aquaculture industries.
Don P. Utojo, President of FMPI said that "ILDEX Indonesia 2017 will be the third 'Unique-comprehensive Expo' ever held in the country focusing on livestock and fishery, including the genetic, feeds additive and premixes, animal drugs and medicines, on-farms, processing and many more. The exhibition, seminars and meetings are participated by hundreds of international and national country's pavilions, companies, associations, organizations, and other.
FMPI (Federasi Masyarakat Perunggasan Indonesia / the Federation of Indonesia Poultry Society) supported by the Ministry of Agriculture, Ministry of trade and DKI Jakarta Government, and hand in hand with VNU Exhibitions Asia Pacific – an International Exhibition Organizer – proudly took an initiative to hold ILDEX Indonesia 2017 on 18th-20th of October 2017. We hope this exhibition will be a place for new information, technology and knowledge to improve the efficiency and productivity of Indonesia livestock so as to strengthen the competitiveness of Indonesian livestock products in Asia and other region."
In two years, ILDEX Indonesia 2019 will continue to expand and return on October 2019 at Jakarta, Indonesia. Demand for space is increasing and stronger-than-ever from returning and new exhibitor's wanting to expand their businesses in Asia. Please do not miss your chance to join ILDEX Indonesia 2019, the fourth edition of the International Livestock and Dairy Meat Processing, and Aquaculture Exposition. The exhibition continues to move forward and keeps promoting the event with the objective of "Livestock Industry Growth, Customized Service."
ILDEX Indonesia 2017 opens today and runs through 20 October 2017 from 10 a.m. to 6 p.m.
For more information, please contact:
Communication Team at saengtip.won@vnuexhibitionsap.com: Mrs. Saengtip Techapatiphandee, Tel: +662 6700900 ext. 122 | www.ildex-indonesia.com | www.facebook.com/ILDEXEXHIBITIONS/